Firstly, Welcome to all my new followers, its so nice to meet you all on here! Especially fellow marine wives. We seem to be slightly outnumbered. I'd like to wish every one a wonderful military spouse appreciation day.
Also hop on over to
Mr, Mrs, and Little Miss
they are doing a fantastic giveaway.
To enter the draw you must first, donate at least $1 to
'Support For Children Of The Fallen Summer Camp'
(For more info on what you will be helping with -
click here
)
You must also follow this blog
Comment & tell me which customization you would choose if you won!
For every separate donation you make, your name will be entered that many times!
The winner will be drawn on May 15, 2010.
Sorry darling, I'm lazy today and copied and pasted that. Its Friday though, and my Husband might be coming home early. One of the few things I like a bout this station.
In honor of MSA day and the fact that Everyone seems to be posting "how I met the love of my life stories" I'll hop on and post one too.
Warning: this is not your typical story. (also none of these photos are mine. sorry ya'll)
It all started here...

Not in that exact spot, but in that town. Anyone want to guess? No? No guesses?
Butte, MONTANA
I was riding one of these... so was he.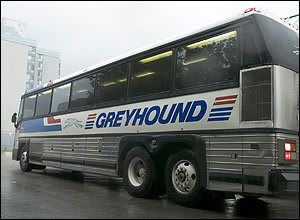 What ewre we doing hundreds of miles from home you ask?
He was on his way back home, after re enlisting into the MC, from Chicago I, where he had been going to school. I was on my way to Idaho Falls, ID to visit a friend. For those who have ridden buses before you know that some run predominately north south and others run east and west. Our East West buses met up in montana.
I had been stuck in the greyhound bus station for six hours, I know long layover, I had brought along a book to read, knowing it would be a long day ( I had been up since three), I mistakenly brought "Sex, Drugs, and Cocoapuffs, after hearing such wonderful reviews. For those who have read it, I feel your pain, for those that haven't, don't bother... In any case, after a skeptical dinner across the street I proceeded settle down the the metal bench and to try and wade through my book. When in walks this Man, I'd dated boys before but he was a whole other breed! Man did my hormones kick in. (and yes I can tell you EXACTLY what he was wearing) He sat down at this dinky little fake bistro table that earlier I had noticed was broken (of course) and wobbly. After watching him for a few minutes I sucked up my courage and told him it was broken. (I was barely 18, fresh out of high school, and in my first year of college. My courage was a little low) and he Smiled at me, reached under the table, wiggled it and Volia! it was fixed. (thank you Table!) after a snarky comment from me, and a little bantering back and forth apparently HE sucked up hes courage (he told me later he was hella nervous) and goes.. "it would be a lot easier to talk he you would come sit over here." Now my mom used to smack me for talking to strangers but I figured what the hell, my bus leaves in an hour, so I stood up walked over, TURNED THE CHAIR BACKWARDS, and sat down. oh, the look on his face was precious. I still giggle to this day.
He was holding a classic car magazine, so we talked about cars (I can hold me own) I told him I was studying photography. and I showed of my very first camera. HAHA it was film. We talked about his tattoos ( he had alot then, he has even more now) I told him about my plans for one ( which I now have).
we talked and talked and talked.
Then my bus called for boarding...
and he stood up too! Honestly for a second, I though he was only being polite, but he boarded with me and sat across the aisle. I have no idea why he didn't just take the other damn seat next to mine, but I'm not complaining...
Heres what he looked like the day I met him.
Anyway, we talked and talked four HOURS. He showed me is CA license (i"d barely been out of washington before then.) We talked some more. He told me his friend Buddha, was picking him up in stockton. I remember feeling amazed me was even talking to me. A few hours later, and a few tiny towns, it was my stop.
I stood up, grabbed all my bags, gave him a HUG and got off. Thinking I would never see him again, kicking myself for being too scared to give him my number.
I spent my spring break with him on my mind, and when I got home I looked him up on myspace. I knew his destination town and his first and last name... I searched and searched and finally... I found him.
I sent him a message. and I waited, and I waited some more. Then one day after I'd almost forgotten, he wrote back. He was deleting his account, per Marine Corps, and he gave me his number!
I waited Forever before calling him back! But I called and he called. I wrote letters and sent cards. He got his duty station in Albany GA, and he called me when we was lost or lonely. I had my moms Atlas. He'd give me his state, highway, and mile marker and I'd tell him when the next town was coming up, look for hotels online for him and gave him encouragement. Sometimes we didn't talk at all. Sometimes we'd just listen. Somewhere along the line, my heart reached out to him. I moved out of my parent house and into my own, I quit a couple jobs to work just one full time. I quit school when juggling became too much. I'd call him when I was hurt or sad, or when I had something special to share. I'd send presents and cookies and TONS pf photos. When he heard I was struggling to pay rent, he sent money. One day nearly two years later I sent him a magnet that said "What are you Waiting for" that same night he called and asked if he could come visit. I said Yes, Of course! I'd have to work though, but I could get off work early and while I was at work he could hang out with my family, get to know them.
I met him at the airport February 8th 2009. I was shaking so bad I had to call my sister Katie. She told me to calm down and to stop spazing.
His plane was late.
and of course he was the last one off. He looked tired and a little dazed, and I realized what my heart had been telling me for years. I would marry this man. I took him home to my apartment. He met Calcifer, and Aedin my cats and I kissed him for the first time in my kitchen under bad florescent lighting with my cats twining about our legs like in the dalmatian movie.
We had a blast that week he met my parents and my sisters.We walked downtown and had soup at my favorite soup place. We had coffee at starbucks and walked through the park. for valentines we did a wine tasting at a local wine shop and I cooked and very nearly burned dinner. When I drove him to the airport on sunday it was all I could do not to run back to him and beg him to stay. I think I was a hermit for a whole week...
Then in April I flew to see him (spring break flash back?) We drove to Panama City where I got heat stoke and then To Savannah to see his friends, so I could FINALLY see both oceans. We spent the whole day on the beach at Tybee Island.
Walking back through the gate in Atlanta I have never felt so sad... Like I was giving up part of my heart. But I went home and back to work. It was Wedding season at Catered for You and I was very busy. But it was hard seeing all these brides getting married. All the lovely dresses and cakes. I didn't enjoy it as much as I used too, I was tired of working, burnt out. I was Jealous. I Ordered a ring offline. It said Anam Cara, Gaelic for soul mate, and I planned on giving it to Eric, I knew he had to Propose Eventually, Or I Would!
The end of may I picked him up at the aiport again, This time I took a few days off work. On the 27th we saw the Terminator movie in theatures and went to dinner at this fantastic resturant downtown. Finally we walked down to the falls under the monroe street bridge, where only nights ago I'd told him it was my favorite place. ( My mom and dad had had a date there once)
He proposed! To this day I can't remember all that he said, but I said yes! and I gave him his ring.
Wedding season took on a different tone after that! I was PLANNING my own wedding. It was a long process and a nervous one, we had a very limited budget. But It turned out beautifully.
On September 26th (two days after my 23rd birthday), 2009 we were married by my longtime family friend Bill Ward in the Presbyterian Church I had grown up in, In Reardan.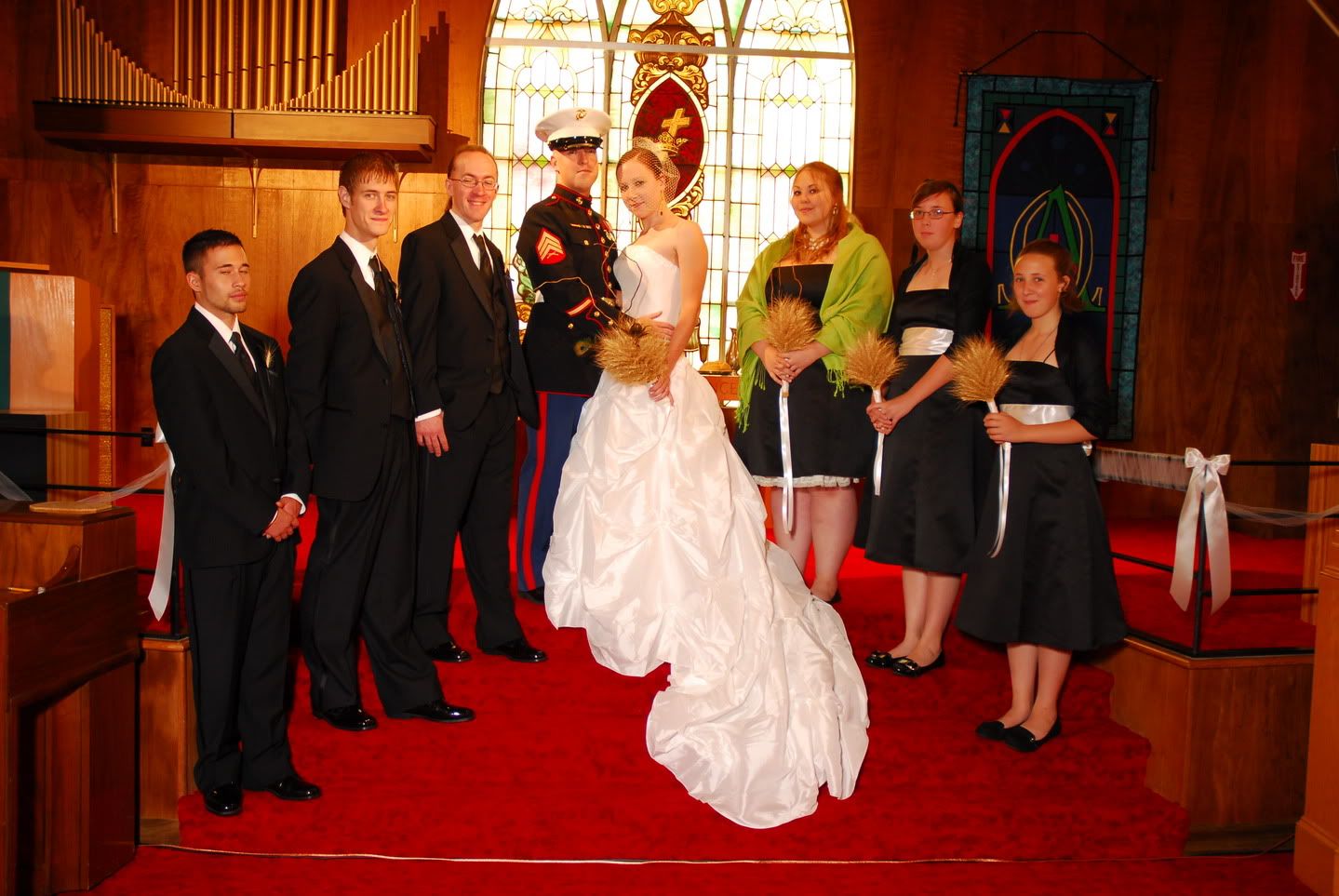 Five days later, and Eric's Birthday too,(in which he got PIE because we were all sick of cake,) we loaded my whole life into a moving van. Stuck the cats into the car in which we were towing and DROVE all the way to Georgia.
And here we are 3000 Miles later and still just as madly in love as the day I met him at the airport, only more. Because even though I didn't marry him because he was my hero, or because he was a Marine, I married him and I love him with all my heart because he loves me. He loves me for me, and probably in spite of me some days. and I do the same for him. I CHOSE this life, knowing exactly what it would mean. Every morning I choose this life, because I Love, and am Loved in return and that makes all the difference.
(I totally made my own bouquet.)
Happy Military Spouses Appreciation day darling. I love you.
-Holly